Hi! We're Dr. Frank, Dr. Aimee & Dr. David, welcome to Oceans! We are passionate about creating healthy and beautiful smiles for children, teens and adults in a friendly and comfortable setting.  We strive to create a boutique experience for our patients. We understand that each patient has individual needs and desires and we work hard to achieve them. We believe orthodontics is a team effort and strive to work with our patients to achieve the best result for each individual.
Eric and Aimee met and fell in love at Columbia University. In the years since, they have jogged countless loops of Central Park and even run in half marathons together! They have travelled to five continents together and dove in the Atlantic, Pacific and Indian Oceans, earning their Advanced Open Water certifications. They love culinary exploration, often ordering the most unusual item on menus around the world. Healthy cooking and physical fitness are daily routines in their home.
Dr. Frank and Dr. Aimee strongly believe in volunteering and helping children in need. They have participated in missions to Jamaica and the Dominican Republic to provide dental care to children in rural districts. They spent a week of their honeymoon operating a clinic in Jerusalem that provides dental care to underserved Israeli and Palestinian children.
Oceans Orthodontics and Pediatric Dentistry is the culmination of a life-long dream and decades of studying and working for Drs. Eric and Aimee Frank, and they couldn't be more excited to share their practice with their friends and neighbors in Westfield, Mountainside, Scotch Plains, Cranford, Garwood and Fanwood.
BOARD CERTIFIED ORTHODONTIST
Dr. Eric Frank, DDS, MA, MS
Dr. Eric Frank was born and raised in South Florida, spent a decade living in New York City and is now a proud local resident of the greater Westfield community. Dr. Frank has many pursuits and interests that he loves to share including flying, running, diving and skiing. He earned his Airmen Certificate as a Private Pilot in 2017. Dr. Frank has competed in the New York City Triathlon annually since 2015, which includes a 26 mile bike ride on the West Side Highway, a run around Central Park and a mile swim in the Hudson River! He has loved skiing and snowboarding since childhood. He is an Advanced Open Water scuba diver and has been diving on 4 continents.  Many of the photographs on this website and throughout the Oceans office were taken by Dr. Frank on his travels.
Dr. Eric Frank is a Phi Beta Kappa graduate of the University of Florida in Gainesville, FL where he earned a B.S. summa cum laude.  He went on to earn his D.D.S. at Columbia University College of Dental Medicine where he held leadership positions at both the local and national level . He was accepted at the prestigious Columbia University Division of Orthodontics, a 3 year residency program, where he served as Chief Resident during his final year. Dr. Frank conducted significant research at Columbia's Center for Craniofacial Regeneration.  He has studied signaling pathways in tooth development as well as the homing and differentiation process of endogenous stem cells, publishing an article on the topic. While at Columbia, Dr. Frank also earned his M.A. as a Dental Educator from Columbia University Teacher's College and was appointed by the University to teach student dentists in the clinic.
After graduation, Dr. Frank attained Board Certification with the American Board of Orthodontics (ABO). This multi-stage certification includes a written examination, a thorough review of patient care skills and outcomes and culminates in an exhaustive oral examination before a panel of orthodontists. A minority of orthodontists ever achieve Diplomate status with the ABO. Dr. Frank  earned this prestigious recognition in February, 2015!
Dr. Frank is a member of the American Dental Association, The American Association of Orthodontists, New Jersey Association of Orthodontists, and the Union County Dental Society. Dr. Frank is a graduate of the Tweed Advance Biomechanics course, The McLaughlin Course and the Invisalign Masters Program. To keep up to date on advances in orthodontic care, Dr. Frank attends continuing education courses on a regular basis including Invisalign and AAO Annual Session.
BOARD CERTIFIED PEDIATRIC DENTIST
Dr. Aimee Leibowitz, DDS
Dr. Aimee Leibowitz grew up on Long Island. She received her Bachelor's degree in Biology from Binghamton University, New York. After college, she went on to obtain her doctor of dental surgery (DDS) degree from Columbia University College of Dental Medicine, where she met Dr. Frank. She completed a postdoctoral residency program in Pediatric Dentistry at Boston University. Dr. Aimee is board-certified as a Diplomate of the American Board of Pediatric Dentistry.
She is an active member of the New Jersey Dental Association, American Academy of Pediatric Dentistry and American Dental Association.
In her free time, Dr. Aimee enjoys spending time with her family and her friends. She enjoys the beach, exercise (especially yoga – she completed her yoga teacher training in May 2020!), scuba diving and traveling. Aimee and Eric their first son in 2017, and their twins in 2020.
Dr. Aimee has wanted to work with kids for as long as she can remember. She loves what she gets to do each and everyday. Raised in a home of educators, her father a math teacher and mother a speech pathologist, she views one of her roles as educating families on healthy lifestyles. Dr. Aimee is also fluent in Spanish.
Her ultimate goal is to make every child's dental visit a positive experience. Dr. Aimee finds it incredibly rewarding to replace children's dental fears with joy and anticipation for their next visit to see her.
Dr. Aimee has additional experience treating children with special health care needs. She worked at an early childhood center that provided assistance to children with deficits in speech, communication, cognitive development and gross and fine motor development. Using ABA therapy and desensitization techniques, Dr. Aimee has worked with children on the autism spectrum, ADHD, Down's Syndrome, cochlear implants/hard of hearing, cleft lip/palate, behavior disorders and mood disorders. She has advanced training in dental treatment for children with autism. During her time in Boston, Dr. Aimee Leibowitz-Frank treated children from NECC, the New England Center for Children, a school for children with autism as well as Francisan Children's, a hospital for children with special needs. She works with children with ASD, PDD and ODD. We all know the dentist's office can be noisy with weird smells and bad tastes. Dr. Aimee's mission is to prove this wrong. She works with children to address their sensory needs to textures, tastes, sounds and lighting in the dental setting. She always gives specialized and personalized attention to those who need that extra little bit of love.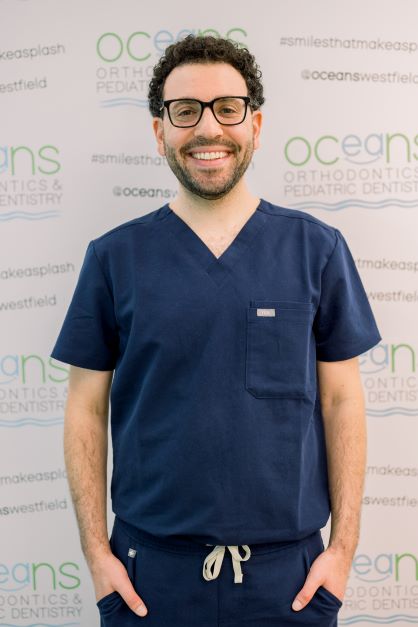 PEDIATRIC DENTIST
Dr. David Berkower, DDS
Dr. David Berkower was born and raised in Staten Island, New York and graduated from Yeshiva University with a bachelor's degree in economics. He then received his Doctor of Dental Surgery degree from Columbia University College of Dental Medicine where he met Dr. Aimee and Dr. Frank. After finishing dental school, he completed a two year residency in pediatric dentistry in Tucson, Arizona, serving as chief resident in his second year.
Dr. David then returned to New York to continue his career as a pediatric dentist and currently lives in Brooklyn with his wife Jenny, daughter Raia and sheepadoodle Chef. Dr. David enjoys going to concerts, cooking, traveling, and rooting for the Nets, Mets and Jets. He's been to 27 countries and loves taking a cooking class when he travels to a new place. Dr. David is a member of the American Dental Association and the American Academy of Pediatric Dentists.
Dr. David has always enjoyed working with children. During his third year of dental school, he participated in a global health externship to Jamaica where he treated underprivileged children. It was in these Jamaican churches and schools, where the pews and desks served as dental chairs, that Dr. David realized he would become a pediatric dentist. It came naturally to him to connect with children and make them feel comfortable even in this setting. Dr. David takes pride in this ability and strives to give all children a positive fun experience at the dentist.